by Forum member Barry on February 13, 2013
This guitar was brought into the guitar shop where I worked, by a home renovator who had found it abandoned behind a furnace. I paid him CAD$50 for it!
As received. Overall, everything's dirty and/or rusty. The body's covered with multiple scuffs bumps scrapes and scratches.
This gal's never seen the inside of a case.
Click to enlarge pictures

Neck is in very good shape and the fretboard is filthy but unmarked, and frets are just about perfect.


The good news is that all the important bits are there. But it is missing the original brass knobs, one brass bridge saddle, and she has a couple of busted switches. She also still has her MMK45's which of course is worth more than the price paid for the guitar!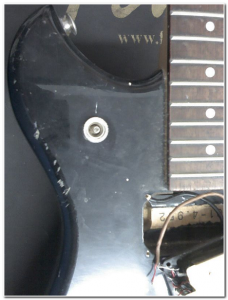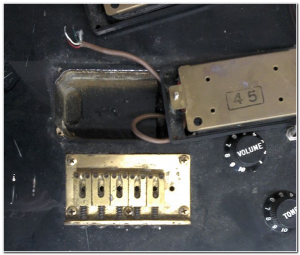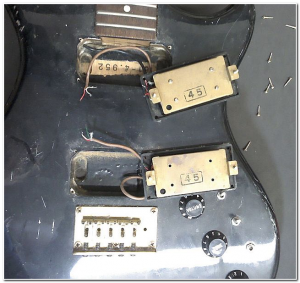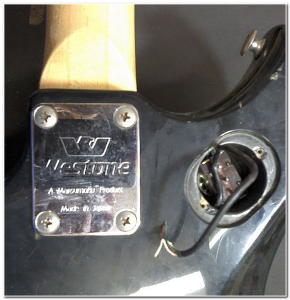 Strangely, both the pups and the selector switch have been disconnected for reasons unknown. Note that the pup's coil wires are just hanging out dangerously exposed. I have no idea if they even work at this point (fingers crossed). Also note that there is a 2-wire hookup on the neck but 3-wire on the bridge. Again no time to check the schematic yet to see why.
Mercifully, the main circuitry appears to have been left alone, with the only apparent casualty being a missing machine screw to hold the active circuit to the cover plate: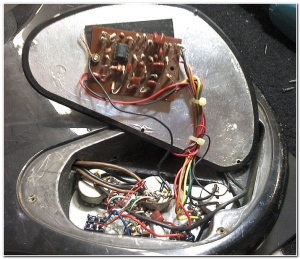 So, all in all, a bit of work to do and a few bits to obtain and replace, but should end up OK.
Oh, there is just one other little thing to deal with: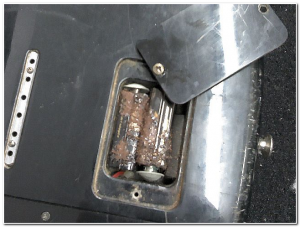 I removed those blown up batteries. And the good news is that the crud was mostly corrosion on the top side of the batteries, the compartment itself was in pretty good shape.
The bad news is that a couple of the connectors on the battery snaps broke off. So, add two more items to buy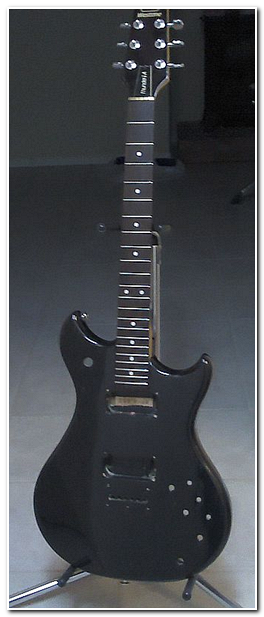 The original condition was pretty rough, especially on her little bottom which was peppered with hundreds of scratches and scuff marks. I elected to take some wet sanding action to that area starting with 400 grit and moving to 2000. That smoothed out a lot of the roughness and removed whatever white stuff was embedded in the the recesses. I then went over everything with a scratch reducing auto rubbing compound followed by my trusty Meguiar's Ultimate Compound, followed by Turtle Wax(!)
In low light she looks great, in strong light just OK. But still wa-a-a-y better than when I first met her.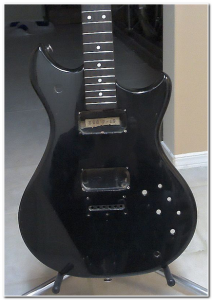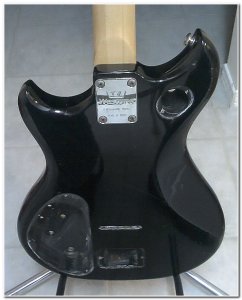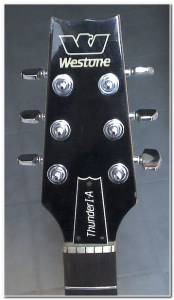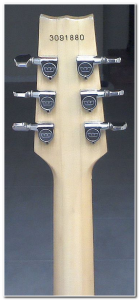 It's still early days but it's encouraging so far. Today I ordered the replacement switches and a few other bits and pieces.
I'm gonna take a flyer on these Stainless Steel saddles from GFS.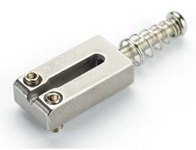 They are a quantum leap over the miserable pot metal/zinc I was going to get and they promise to offer a similar sustain to the brass, if a tad brighter. And, they are a damn sight cheaper than brass!
The active switch which is a standard mini double pole double throw like the other two. This is the one that had the broken shaft and that I replaced (arrow points to it in this pic). It was soldered in just like the original: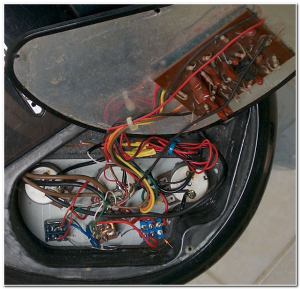 Here's another shot showing the pup wires AND those snazzy new stainless steel saddles!
They don't look too bad, at least not all shiny like chrome: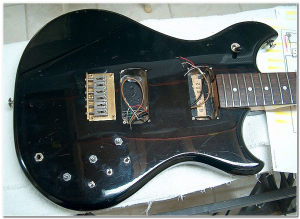 What I now realize is that the pups were reversed! That is, I wrongly assumed in taking them out of the guitar that they were in the correct position to begin with. I should have realized that, since everything had been disconnected in the first place that they may have been shoved into the wrong cavity. Turns out they were, even though mounted on the correct rings.
I stupidly labelled them as they were removed and continued to look at them as if they were the correct wiring for their respective positions, hence 90% of my problem. Moral of the story: don't assume the received condition is correct!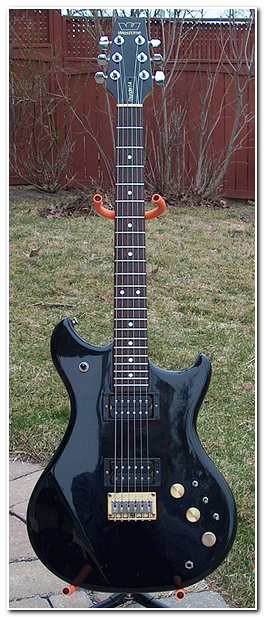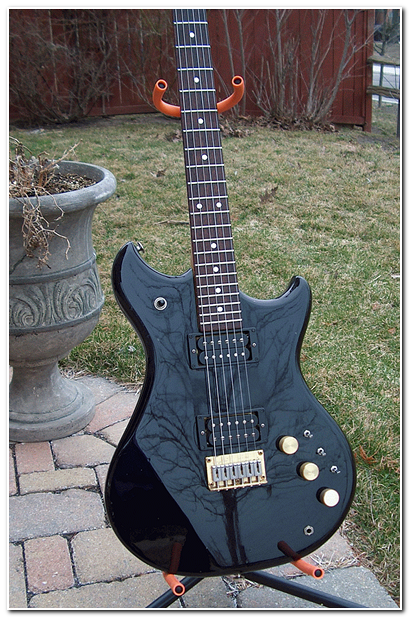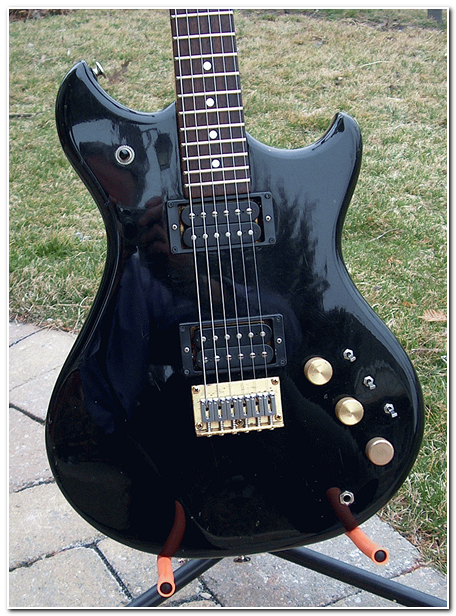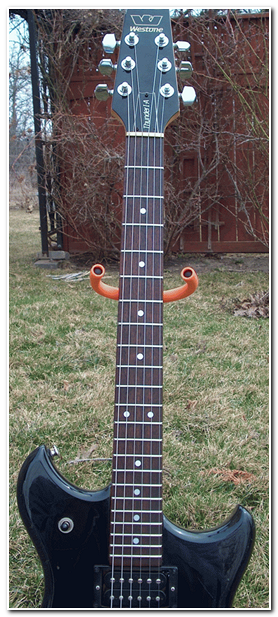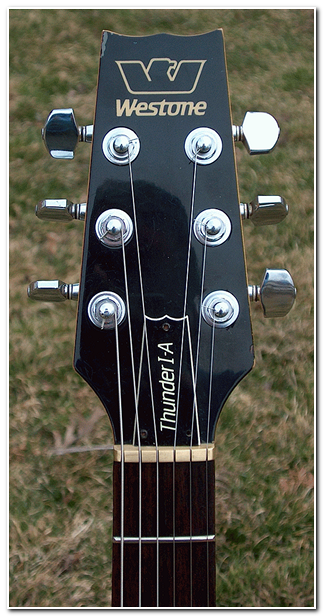 An awesome guitar for $50 + a few dollars for assorted small parts!